I only listen to Hamilton right now! That is what I would call an obsession. This tag combines my two favorite things: Hamilton and books!!!!! warning: this tag contains spoilers for Clockwork Princess, The Martian, and We Were Liars.
SONG 1: THE ROOM WHERE IT HAPPENS
Question: What is a book world that you would put yourself in?
HARRY POTTER ALL DAY EVERY DAY FOREVER YES HARRY POTTER.
SONG 2: THE SCHUYLER SISTERS
Question: What is a female character that you think is underrated?
Miss Cassiopeia Sullivan. She went through a LOT and after the movie she seems like a weak girl who needs a guy to save her. SHE. FREAKING. SURVIVED. AN. APOCALYPSE. SO. FAR. People like the book, but think about all the stuff she has to go through and SURVIVE. I WOULD NOT LAST A DAY. I would trip while running and then an Other would grab me, sooo.
SONG 3: MY SHOT
Question: What is a character that goes after they want and doesn't let anything stop them?
Does just plain old survival count? Then I'm saying Mark Watney from The Martian. He stays alive for YEARS on a planet ALONE. He MAKES FREAKING WATER AND POTATOES. If that isn't using your exactly one shot very well, than what is?
SONG 4: STAY ALIVE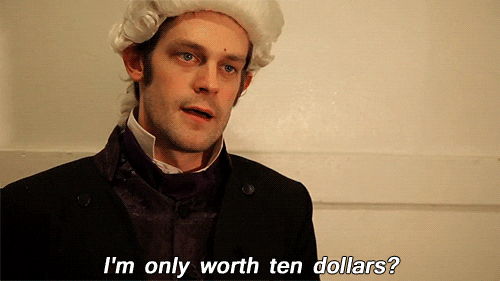 Question: What is a character that you wish was still alive?
Will Herondale. I'm not a book crier, but Clockwork Princess almost made me sob (the most).
SONG 5: BURN
Question: What is the most devastating end to a relationship you've ever read about?
WHEN SAM WAS MURDERED AND CELAENA WENT TO HIS GRAVE AND GAHH THEM FEELS.
SONG 6: YOU'LL BE BACK
Question: What is the sassiest villain you've read about?
Idk. Maybe Amarantha from A Court of Thorns and Roses. She just annoyed me so much.
SONG 7: THE REYNOLDS PAMPHLET
Question: What is a book with a twist that you didn't see coming?
*cough* We Were Liars *cough*
SONG 8: NON STOP
Question: What is a series you marathoned all the way through?
Recently I just read all of the Shadowhunter books and I am reading Tales from the Shadowhunter Academy right now. (reviews to come soon)
SONG 9: SATISFIED
Question:What is your favorite book with multiple POVs?
CARRY ON BY RAINBOW ROWELL. I FREAKING LOVED THIS BOOK AND I FINISHED IT TODAY.
SONG 10: WHO LIVES, WHO DIES, WHO TELLS YOUR STORY
Question: What is a book that you think will go down in history?
Harry Potter is already in history, so I'll say Miss Peregrine's because I just love them so much and THE MOVIE IS NOW COMING OUT IN SEPTEMBER INSTEAD OF DECEMBER FRENCH THE LLAMA I CAN'T BELIEVE IT!!!
Mabel loves Hamilton. Sorry I haven't blogged in two weeks! I'll be blogging more frequently. Here is Christine Riccio's Hamilton Book Tag video. And here is Maureen's (original tag). Thanks for reading this! Listen to more Hamilton!!!!!! It is life-changing music!!!