Morgan Matson's new book. Pretty good! 4/5 stars! Goodreads Link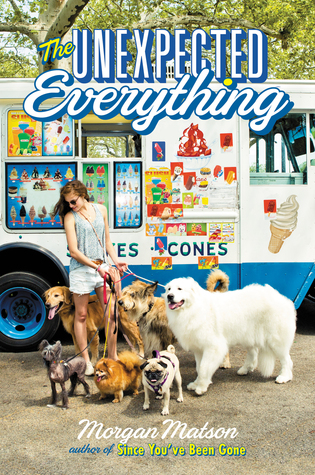 Andie had it all planned out.
When you are a politician's daughter who's pretty much raised yourself, you learn everything can be planned or spun, or both. Especially your future.
Important internship? Check.
Amazing friends? Check.
Guys? Check (as long as we're talking no more than three weeks).
But that was before the scandal. Before having to be in the same house with her dad. Before walking an insane number of dogs. That was before Clark and those few months that might change her whole life.
Because here's the thing—if everything's planned out, you can never find the unexpected.
And where's the fun in that?
---
The Unexpected Everything follows Andie as her summer plans (a pre med program) have suddenly been ripped to pieces after a her Congressman father is part of a scandal that revokes her admission. She now must find some other way to spend her summer. This is only the second Morgan Matson book I've read other than Since You've Been Gone (I know, SHAME!) But I swear I'll get around to Amy and Roger and Second Chance Summer.
*Spoiler Section*
---
First off the bat, I'm liking Clark much better than Frank from Since You've Been Gone. He wrote a book. When he was fourteen. I tend to admire exceptionally intelligent characters. The ship is stronger with Clark and Andie than it is with Frank and Emily.
I love Morgan's writing style, and this book was just wonderfully written! It's quite easy to read, but not overly basic.
Is it just me, or should Morgan Matson release Clark's book series? I kept thinking about how much I'd want to read them!! Hopefully we'll get a novella, but probably not because it's not Morgan's main genre of writing. Random thought but every time they said Murder of Crows, I kept thinking Six of Crows and the shame I carry because I haven't even read it yet.
(Have any of you guys read Six of Crows? Please comment and tell me how you liked it!)
Even though the ship wasn't as strong, in my opinion, I did enjoy SYBG better than TUE. It's just a better plot, and it feels more lighthearted, somehow. I'm currently extremely sad because I've managed to lose my dust jacket for SYBG after lending it out to someone without its dust jacket! I'll probably just end up buying a new copy because I don't think I'm finding my dust jacket anytime soon (though knowing me I'll probably find it two seconds after I get another copy!)
---
Oh my goodness, I'm SO SORRY! I haven't blogged in forever and I feel so awful about it! I promise I'll be better about posting!
Have you guys read The Unexpected Everything? I'd love to hear your thoughts! Also, if you guys have been reading my blog for a while, then you may be aware of my massive Hamilton obsession, and I'd really like to know if you guys are as obsessed as I am!
Thanks for reading! Remember my Goodreads is thebookllama_hannah and my Instagram is @thebookllama! Bye!