I know, I know, I finally posted?!?!

Gemma has been in and out of hospitals since she was born. 'A sickly child', her lonely life to date has revolved around her home, school and one best friend, Alice. But when she discovers her father's connection to the top secret Haven research facility, currently hitting the headlines and under siege by religious fanatics, Gemma decides to leave the sanctuary she's always known to find the institute and determine what is going on there and why her father's name seems inextricably linked to it.
Amidst the frenzy outside the institute's walls, Lyra – or number 24 as she is known as at Haven – and a fellow experimental subject known only as 72, manage to escape. Encountering a world they never knew existed outside the walls of their secluded upbringing , they meet Gemma and, as they try to understand Haven's purpose together, they uncover some earth-shattering secrets that will change the lives of both girls forever…
---
Replica follows Lyra and and Gemma, two girls who seem at first to be irrelevant and unconnected, but as their stories progress, they become more intertwined. Suddenly Gemma, a girl mocked for her weight, decides to finally investigate the mystery behind the Haven Institute, whose purpose is unknown to her, and discovers much about her past along the way. Lyra is a replica at Haven. She reads one book over and over, wonders about the outside world, and finally escapes Haven with another replica. She meets Gemma, and both of their lives change forever. I'd give it four stars, so not spectacular, but worth the read. 
If you didn't know, Replica is a flip book, meaning that it's two stories in one, Gemma's and Lyra's. I personally read it in alternating chapters, the people at school probably wondering, What on Earth is she doing with that book? I really enjoyed seeing the two different perspectives on the same event. They both saw the world through different eyes, their views shaped by their experiences. For example, Lyra barely knew anything about the outside world, so she mostly talked about her feelings and curiosity about this new place in which she was.
I thought that while Gemma and Lyra were quite developed characters with a detailed backstory, I didn't think that any of the side characters were particularly fun or interesting to read about. They weren't bad people, per se, but I felt like they were kind of just along for the ride, just there for the ships, and not to do much else.
Overall, it's definitely not my favorite Lauren Oliver novel, a little lackluster, but I'll probably continue with the future books, for the sake of finding out what happens.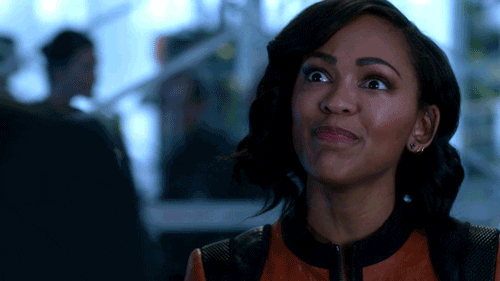 ---
Thanks for reading! Have you read Replica? What do you think? I love reading your comments! Remember, here's my Instagram, Facebook, and Goodreads.