This show was forlorn, a word which here means "hopeless; with no chance of success." In other words…this show was AMAZING.
From its literal opening notes, this show was fabulous. I was screaming a bit. Its theme song was hilarious and if books had theme songs, this would be the epitome of one. (JUST LOOK AWAAAAAAAY).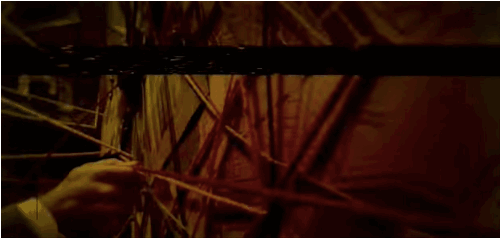 The attention to detail in this series is insane. In all honesty, I believe it to be the best adaptation I've ever watched. I haven't even read the books in a long while, but I remembered so much by watching this show.
It annoys me, in all actuality, when I see posts on the Internet like "Top 10 Differences-A Series of Unfortunate Events", because they just HAVE to point it out, apparently. (Well there goes that post idea…) But the only REAL difference was that they made Lemony Snicket a more prominent character.
Lemony narrated and described in great detail the hardships the Baudelaires encountered. At the beginning of each odd-numbered episode (or the start of a new book), it even displayed the messages from Lemony to Beatrice. Beatrice being the unrequited love interest of Lemony, and the late mother of the Baudelaire children. I mean, in most adaptations, adding something so detailed as that would be neglected without a second thought.
I think that these adaptations are important to spread these stories to a wider audience, and more important still that they are quite similar to their book form. Keeping that in mind, I was exceptionally pleased with this series.
In the Bad Beginning, it started with Lemony starting to describe the childrens' terrible fate. Then, the children set out to Briny Beach, and on their way, they see a firetruck wailing down the street (which was beyond sad).
I loved how they portrayed the children and their behaviors. They showed Violet and Klaus inventing and reading and quoting.
I think that Neil Patrick Harris was definitely an AMAZING Count Olaf. It all felt very real. Count Olaf's house was hilariously out of character in the sunny neighborhood. Justice Strauss was really likable, but not super helpful to the Baudelaires.
And then at the end of the episodes, we witness a set of parents talking about getting home to their kids. In the beginning of the series, I was really confused, and thought that maybe this show made it so the Baudelaire parents were actually alive. But…it turns out I was completely wrong! I'll share what my thoughts were on whose parents they were when/if I get around to making a post for The Miserable Mill.
---
Did you guys see the show? Did you like it? I'd love to hear your thoughts! Remember, here's my Instagram, facebook, and Goodreads.