Because classics can be great!
This year I've been kind of behind on the book count (partially) because I've been reading a lot of classics recently, which slows you down just a little bit more than a YA. I think I've read some pretty good material, and some pretty awful material (*cough cough* looking at you, Hemingway). With my newfound classic knowledge, I present to you ten classic books that I think you can finish with at least a four-star rating.
1. The Bell Jar by Sylvia Plath
Oh, Sylvia Plath. Hearing her name, you might think of The Bell Jar or poetry, or something or other. (Impressive number of or's. Three? In one sentence?) The Bell Jar has a plot regarding mental illness, and the poor opportunities presented to people suffering from various branches of it during the 20th century. It was frightening, eye-opening, and amazingly crafted.
2. The Handmaid's Tale by Margaret Atwood
I know, I know, The Handmaid's Tale has been mentioned oh-so-frequently in the media recently. Obviously it's because it regards a dystopia that many fear that we are heading towards ourselves. It regards "handmaids" forced to try in conceive for strangers in a world where women have no rights, and aren't even allowed to read. It's a shocking, and sometimes blunt, imagining of what America, or any nation for that matter, could become if we aren't careful. It's thought-provoking and definitely different from any "classic" that you'll read.
3. 1984 by George Orwell
Like The Handmaid's Tale, 1984 is another popular book that has been mentioned in the media recently because of its political and social relevancy. I think I read somewhere that Orwell wrote it to prevent us, the future, from becoming like his almost prophetic novel. 1984 is set in a world where there isn't a whole of freedom. Big Brother watches all, and so does the "thought police". Winston, the main character, rebelliously writes in a journal (diary? notebook? One of those, that is), which is absolutely forbidden in his society. I found it fascinating, the leaders view on power, and the similarities between the beliefs of those leaders in question and some of our leaders today.
4. And Then There Were None by Agatha Christie
Okay, this miiiiight not count, but hey! It's from the (earlier) 20th Century, and is very popular, so I'm counting it for now. And Then There Were None is one of my favorite Agatha Christie novels, and for good reason. It follows a group of people mysteriously sent to an island, are accused by an unknown U.N Owen of their crimes, and then one by one are killed off following a Soldier Boy poem. To be honest, it's absolutely engrossing and very impressive how you couldn't guess the murderer (who is someone in the group, by the way). Highly, highly recommend.
5. The Little Prince by Antoine de Saint-Exupéry
The Little Prince is a children's book, technically. But it seems that it's enjoyable by all ages. It is a really fast read, and I finished in around an hour. The tale is sweet, and the messages deep. I think everyone, especially children, need to read this.

6. A Study In Scarlet by Sir Arthur Conan Doyle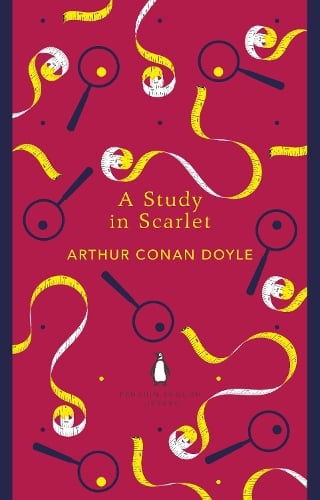 A Study In Scarlet is the first of the adventures of Doctor John Watson and Sherlock Holmes. Sherlock's ability to solve crimes while leveled with Watson's comments and writings-up on the cases makes for a great novel. Watching Sherlock solve the case with his remarkable deductions is reallly amazing.
7. Jane Eyre by Charlotte Brontë
Jane Eyre is an exceptionally feminist and extremely well-written novel. It follows Jane Eyre, a girl not of high birth, beauty, or wealth, but of resolute and strong spirit. It begins with her dealing with her harsh home conditions as a young girl, and seeing her become an independent woman, not afraid to do what she wants and speak her mind. Jane Eyre is a must-read for anyone. Though the writing is a little similar, I much prefer Brontë to Austen.
8. The Catcher in the Rye by J.D. Salinger
The Catcher in the Rye is told from the perspective of Holden Caulfield, a character that many people find very irritating because of his habit of calling other people "phonies". I actually liked Holden, but it varies from person to person. He's been expelled from his school, and is going home. Various things happen along the way, but overall it's a lovely story that everyone needs to read.
9. Fahrenheit 451 by Ray Bradbury
Fahrenheit 451 talks about a world where firemen don't put out fires, they start them. Specifically to burn books. But Guy Montag, a fireman and our main character, decides to hoard literature, which is noble but very dangerous. Fahrenheit 451, I hear, is going to be made into a movie, which at once is really frightening but a little bit cool. Overall, I'm not a huge fan of adaptations, because I really favor the writing in books, which obviously is lost (or mostly lost) on the screen.
10. The Great Gatsby by F. Scott Fitzgerald
I honestly saved the best for last (in my opinion). Reading The Great Gatsby makes me think of a simpler time, which is embellished with absolutely amazing writing. It's not very long at all, so it's "great" to be a beach read, even though it's not fluffy at all. It makes me think of summer, Long Island, and Gatsby. Nick Carraway, observing Gatsby, notes his hope, which is inspiring though tinged with greed.
I've seen the 70s and the most recent Gatsby movie with Leonardo DiCaprio, and neither have done it justice at all. The 70s one seems unfulfilled, and the new one is like they blew up the book to ten times its size, which is to say that it's way too over the top. I don't think they'll ever make a good adaptation of this book. If only is was like Catcher and never had one in the first place. 
What's your favorite classic? Any of these? Leave it in the comments! Thanks for reading! Remember, here's my Instagram, Facebook, and Goodreads.