UHM YES PLEASE
The Gentleman's Guide to Vice and Virtue is a perfectly done, historic, adventurous tale.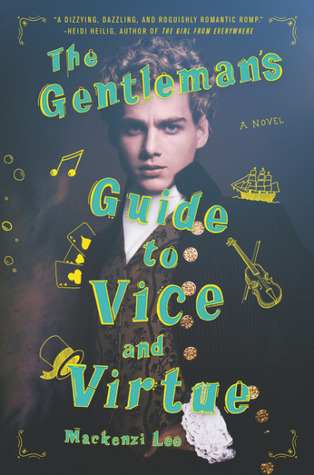 (Goodreads Description)
Henry "Monty" Montague was born and bred to be a gentleman, but he was never one to be tamed. The finest boarding schools in England and the constant disapproval of his father haven't been able to curb any of his roguish passions—not for gambling halls, late nights spent with a bottle of spirits, or waking up in the arms of women or men.
But as Monty embarks on his Grand Tour of Europe, his quest for a life filled with pleasure and vice is in danger of coming to an end. Not only does his father expect him to take over the family's estate upon his return, but Monty is also nursing an impossible crush on his best friend and traveling companion, Percy.
Still it isn't in Monty's nature to give up. Even with his younger sister, Felicity, in tow, he vows to make this yearlong escapade one last hedonistic hurrah and flirt with Percy from Paris to Rome. But when one of Monty's reckless decisions turns their trip abroad into a harrowing manhunt that spans across Europe, it calls into question everything he knows, including his relationship with the boy he adores.
Soooo, short summary: Henry Montague+friends go on Grand Tour. Chaos ensues!
This book was just a WHOLE. LOT. OF. FUN. 
Henry Montague (which I used to think was pronounced "Mohn-tahg", by the way), is a partier, gambler, and drinker, which proves not to be exceptionally helpful when his father wants him to take over his estate, which sadly probably does not have stables which house llamas. 
There's also a Grand Tour, which is pretty much as great as it sounds.
Basically, a Grand Tour is something that flourished around the 18th century with upper-middle class and high-class boys (and occasionally girls, because sexism was a big thing then), where they would go to a multitude of places in Europe. They usually did this to a) further being cultured and stuff and b) to party like craaaazyyyyyyy.
A Side Note…
Henry may or may not (okay the second one's a lie), be in love with his best friend Percy, who he's not sure feels the same way. But anyhow, those two and Henry's bookish (and CRAZY AWESOME) sister, Felicity, set off on their Tour, only for it to go completely crazy (but who doesn't like crazy?! Good crazy. Not like "Wow it's so crazy that my cat spontaneously combusted." That just seems kind of awful.)
If you've been on the bookstagram scene, you've probably seen it hyped…AND IT'S WORTH IT.
pretty please just read it nownownow!!!
5/5 STARS!!
Spoilers!
Felicity was just so many kinds of surprising:
Okay, in the beginning I was like: "Sorry to judge, but all you read are ROMANCE NOVELS?" (people who only read romance novels I mean no disrespect but…)
But then she's like: yeah no im actually reading medical textbooks, which actually made my heart just swell with feminist pride
Then when there are injuries- SHE JUST JUMPS RIGHT INTO ACTION YOU GO GIRL (though it's just an eensy-weensy bit unrealistic that she knows exactly how to do what she's learned in books in real life, but you know it's still pretty amazing.)
" 'Ladies haven't the luxury of being squeamish about blood,' she replies, and Percy and I go fantastically red in unison."
 Even though Henry was narcissistic at times, he and Percy (who was just selfless tbh) were great main characters (Felicity too it's just we already talked about her freaking greatness)
Though Henry's a heavy partier and drinker, he starts to show this lovely character growth and matures as the story goes along. It's honestly so happy at the end when he and Percy just finally take full control of their lives and LIVEEEEEEE. 
It SUCKS that Henry and Percy are forced to hide their relationship heavily from the world because of the period. In the back, Mackenzi Lee gives some background on LGBTQ+ from the 18/19 century, which, among other facts regarding Grand Tours and such, WAS SO HELPFUL THANK YOU.
I really enjoyed the rush and thrill of the adventure, running from the Duke of Bourbon, and the PIRATES OF COURSE.
Also, Mackenzi Lee apparently has a book coming out in 2018 called "The Lady's Guide to Petticoats and Piracy" which is about Felicity Montague!
Here's what Goodreads says so far…
"A sequel to The Gentleman's Guide to Vice and Virtue, narrated by Felicity and featuring travel, pirates, and a science girl gang."
IF THAT ISN'T PROMISING WHAT IS?
Did you like The Gentleman's Guide to Vice and Virtue? Make sure to share your thoughts in the comments below! Remember, here's my Instagram, Facebook, and Goodreads.